Join the "Elvis Trumps Cancer" St. Jude Team! Saturday, November 22, 2014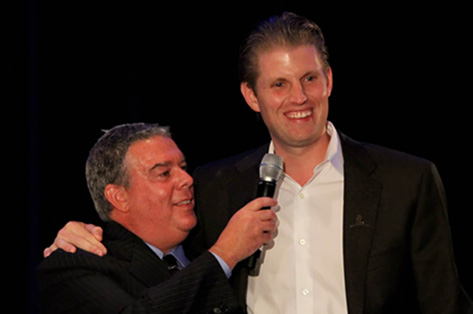 Four years ago, Steven Levine and Lynne Patton realized that they had to introduce their respective bosses to one another. Not only did they both possess a strong work ethic, dedication to family and sharp wit, but also an unprecedented passion for philanthropy. The introduction resulted in a permanent friendship and one of the strongest philanthropic collaborations for St. Jude Children's Research Hospital, to date.
On Friday, November 20, 2012, Eric personally invited Elvis to accompany him & the Eric Trump Foundation team down to St. Jude to meet the children & families battling these life threatening diseases, in Memphis, Tennessee.
The trip proved to be a life changing experience that solidified Elvis Duran's dedication to The Eric Trump Foundation and to the children of St. Jude.
Since then, Elvis Duran has encouraged his listeners to donate to St. Jude in honor of his birthday, spearheaded an annual walk across the Brooklyn bridge and served as emcee for Eric's annual gala in September, single-handedly helping ETF raise well over $4 million dollars for St. Jude Children's Research Hospital.

Join Eric Trump & Elvis Duran on their mission to save lives at St. Jude Children's Research Hospital on Saturday, November 22, 2014, 9:00AM.
Click below to join the #ElvisTrumpsCancer team and help save lives.